FAMILY NEWS
APRIL 2021
Happy Spring, everyone! It's so nice seeing a bit more of the sun, and enjoying the longer evenings. Here's what's been happening with the K-Team:
SUGAR FREE
The three things in life I love the most are Jesus, my family, and sugar. Only the last thing on this list is a vice. Many of you know that Cindy and I enjoy running, and have run the Sun Run on a few occasions. This year, we decided to run the "Virtual Sun Run" with a team from my RE/MAX office. In a few short days, we'll all run a 10km route along the Fort to Fort Trail in Fort Langley, and submit our times to the Vancouver Sun. Unfortunately, it's been hard for me to get super motivated to make the training and dietary sacrifices necessary to be in race shape. The craziness of the local real estate market often causes me to reach for the comfort foods of chocolate, double double steeped tea from Tim Hortons, and anything else containing sugar like peanut butter (yes, I eat it out of the jar), sugar blam blam cereal, and ice cream. About 3 weeks ago, I cut out sugar. The first thing that happened is that I got a headache for 2 days. But in time, that cleared, and I noticed my food cravings dropped off, especially the mid afternoon craving for sugar energy. In this time, I've dropped 4 pounds, and I even feel better with more energy and better sleep. Unfortunately, with the 4 pound weight loss, I'm still 10 pounds over race weight, so I'll be running with the extra bulk. Now, I know myself. Once the race is over, I'll probably pull into a Tim Hortons for a steeped tea double double. But with beach holidays on the horizon, I hope to keep the sugar habit at bay.
DIRT BIKES
Cindy hasn't been to our shed recently, so I haven't got in trouble yet for buying yet another family dirt bike. I just bought a Yamaha TTR 230 for Adrianna as the TTR 125 she has been riding is getting a bit small, and one of the other kids can ride it. Cindy did know that I bought a small quad for Andy to rip around on, but of course as soon as I bought it, he became brave enough to once again ride the little Honda CRF 110 we have. Years ago, I was giving Andy a riding lesson on the Honda. While I was on the back, and instructing Andy to go gentle on the throttle, he did the old "whiskey throttle" which immediately elevated the front end of the bike and threw us both off. Nobody died that day, but Andy refused to get back on the bike, and repeatedly stated he needed "4 wheels". So I bought the quad which he now doesn't ride because he's back on 2 wheels. Well, Cindy says she'll ride the quad, and we're all excited to see her out on the trails soon! It'll be a challenge, as it has always been with a bike helmet, to convince Cindy of the importance of a safety helmet, and that families that ride dirtbikes are ok with less than perfect hair.
Because we now have 5 dirt bikes and a quad, I had to buy a bigger trailer. So I went out and bought a 14' tandem axle trailer with a loading ramp. When I got it home, Cindy called it a "horse trailer" because it was just a "bit" bigger than she expected. I love the new trailer, and Andy wants to do some camping with it soon!
THE AUDI
The lease on my 2017 Audi SQ5 is up, and my new 2021 SQ5 will be ready in a few days. The other day, Cindy and I, along with Nicole and Andy, drove out to my parents' place in South Surrey. I love how my Audi drives, and since I had to turn it in soon, I decided we'd drive it, instead of the "family vehicle", out to see the folks. One of my favourite places to rip is the hill on 8th Avenue that takes you down into the Hazelmere Valley. It's a great twisty road that really demonstrates the superior handling of German designed vehicles. So I threw the Audi into sport mode and attacked the downhill. It didn't take long for the "Emergency Voice Alert" to activate from the passenger seat, sounding just like my lovely wife, to tell me I was going too fast and driving in an unsafe manner. My response that the Audi is engineered to take on much more than I just put it through was not graciously accepted. And it didn't help that sweet Nicole piped up from the back seat to tell Mom that I usually go "way" faster. I guess Cindy isn't impressed with "performance" vehicles and believes I should go perform when he is not in the vehicle. Fortunately, the kids are used to Dad's spirited sprints through the "S" curves, so I'll have to remember who's in the car when I decide to punch it.
So that's an update from the K-team! If you have any thoughts or funny memories, shoot me a text at 604-312-8920, email me at steve@steveklassen.com, or message me on Facebook!
FAMILY NEWS
FEBRUARY 2021
The days are long, but the years are short
I'm not sure who first penned this saying, but the words definitely ring true for me. Sometimes I can't believe what all happens in a single day, and at the same time, can't believe how quickly the years pass. Here are some quick family updates from the K-team.
Graduation
Adrianna is in her fifth and final year at SFU, and Mireya is in her grade 12 year. Two graduations coming up! Mireya is considering post secondary education while Adrianna is keeping her options open. Whether to get out into the workforce to save up some money, or to continue her education. We'll see what happens!
The Slopes
We've been doing a lot more skiing this year, and the kids have improved their skiing form. Our usual outing is a Sunday "Night Owl" ski at Cypress. The prices are a bit more affordable, and the lift lines are usually fairly short. We like to start skiing at about 5pm, put in a few runs before we have dinner at the cafeteria, and then a few more runs before we head home. We usually like to take an annual trip to Mt. Baker, but for this year, I'll take a few of the kids to Manning Park for a day trip. When you have a big family, these ski excursions can get expensive, but what else would I spend the money on? Well, wisdom would say retirement planning would be a smart idea. However, I'm not that smart, and so my idea is to spend my money on fun family experiences, and I'll just work until I can't anymore. I told Cindy that in order for me to be less of a financial burden on her, she can plan my retirement party to be the same day as my funeral!
Jude the Realtor
After finishing up his third year at Bible School, Jude, and his wife Morgan, moved to the Fraser Valley where Jude took on a landscaping job to "pay the bills". During that time, he took the Real Estate course and got his license. Jude is now working with me as part of the Steve Klassen Real Estate Group, and is doing well. Jude did his first real estate transaction within a week of getting his license, and it might have gone to his head a bit. He started taking the good parking spots at the RE/MAX office, and I think he might have even used my coat hook. All joking aside, Jude has been reaching out to his sphere, just to let people know he's in the business. That effort has landed him his first big listing! It's been interesting getting his perspective of what real estate is, and what he thought it was when he was a youngster observing his Dad. I have to say I think I've done a pretty good job of being around for my family, but what the kids didn't see, which Jude is perhaps realizing now, is that once they went to bed, I was back in the home office for a few hours of paperwork. Jude and the kids thought I was joking when I often quipped:
Q: "What does a Realtor do after an 8 hour day?"
A: "Stop for lunch!"
Q: "Does a Realtor ever just work a 20 hour week?"
A: "Yes, when he is on vacation!"
Cindy the stager
Cindy, as a professional stager, has been staging my listings for a few years now. She and her staging partner Susan do an incredible job, and their work really does result in my listings selling for more money and in a shorter period of time. But I have to say, Cindy's vocation is affecting our family life. Not that long ago, my daughter Nicole complained that her desk was missing. Cindy told her to suck it up as the desk was needed for a staging job, and that homework could be done in the dining room. And speaking of the dining room, all of the sudden our dining room table and chairs were gone, and replaced with our outdoor patio set. Cindy explained that the furniture was needed for another staging job. Cindy loves her job, and is really good at it, but if I can't watch the hockey game because the TV is missing, I'm going to file a grievance with the professional stager's union!
So that's an update from the K-team! If you have any thoughts or funny memories, shoot me a text at 604-312-8920, email me at steve@steveklassen.com, or message me on Facebook!
FAMILY NEWS
DECEMBER 2020
Merry Christmas! Thank you for your continued support of my business; I am grateful indeed! The success I've had over the past 26 years would not have been possible without great clients like you!
How to start my 2020 Christmas letter? Especially when we already have an unprecedented use of the word "unprecedented"... The year began briskly with strong sales in January to mid-March. I held a very active open house on Saturday, March 14, and by the end of the next week, due to the number of government announcements, the market ground to a halt. However, by May I noticed momentum building, and by July and August, the market moved into the "red hot" zone. Through to the busiest October on record for the Fraser Valley Real Estate Board; guess we'll see if the pace continues. For
anyone thinking about buying or selling, it is now, more than ever, critical that you get solid advice from an experienced, top producing real estate agent. If you, or anyone you care about, are considering a move, call me at 604-312-8920 and I can help!
On the home front, Cindy has really taken her success of staging my listings to the next level. As we study our sales statistics, it's become evident that professional staging has a pretty significant influence over the eventual sale price of my listings. Cindy has been balancing this with the regular "home front" craziness of running a big family with lots of activities.
Big news everyone...
Big news from us is that we are in the process of adopting again from the Philippines; Cindy and I are hoping to bring another boy into our family, about 12-13 years old. So by my math, we'll be at 7 kids, one daughter-in-law, and together with me and Cindy, we are now able to field either a basketball, hockey, soccer (our cat will be in goal), or basketball team!
Jude and Morgan moved into the Fraser Valley area once Jude completed his 3rd year at Millar College of the Bible. Morgan has been working with me as my Director of Marketing and Social Media, and has really helped me up my marketing game. Jude just assed his real estate exam, and will be joining me in the business. I'm super excited about that, and Jude's been keen to learn everything he can about the real estate business. Obviously, my concern is that it will take about 5 minutes before my entire client
base realizes that Jude is much smarter than his old man, and I'll get pushed out of my own real estate team…
Adrianna is in her 5th and final year at SFU. I can't believe she's almost done! As she hasn't had any "in class" courses this term, drianna is doing her learning online. Fortunately, she's able to have a bit of a social life with the track girls she houses with, and her SFU training group that still practices regularly. Big news is that Adrianna can now drive 5-speed, a skill required once she got a 2015 VW Golf. It sure is a fun, zippy car, and I'm proud of her ability to navigate the steep hills of Capitol Hill near her place.
Jared is in his 3rd year at Trinity Western University, and has landed a role as Resident Assistant (RA) at the dorms. He's enjoying ife on campus which includes ping pong, shinny hockey with the "beauties", guitar and bass guitar practice, energetic debates about idealistic matters that won't matter much in 20 years, and if there is time left over, a bit of studying. Jared is learning a lot at TWU, I just wish that for the money I'm contributing, I actually understood what he's learning…
Mireya is in her grade 12 year at Langley Fundamental, and just the other day bought her grad dress. Cindy doesn't know that I saw the receipt and that I'm very proud of myself for not going ballistic! I have to say that these dress companies are marketing geniuses. They take a dinner gown, make a few slight modifications, triple the price, and call it a "grad gown". However, I've kept my mouth shut about my financial spending opinions as of late, especially since if Cindy knew hope much money was going into my new dirt biking habit, I'd probably be asking you, dear reader, to sleep on your couch! Mireya is in driving lessons, and is looking forward to getting her "N" so that she can take her Mazda 3 out for a spin whenever she wants.
Nicole is in grade 10, and this year started at Langley Christian High School. She's enjoyed making new friends and is excited about some of the extra curricular activities the school offers. Good for me is that the school is closer to Tim Horton's. Nicole is also still playing rep soccer and may even do track and field this year.
Andy is now in grade 7 and is eagerly awaiting our next adoption to finalize so that he can have a brother to play with. Andy is also playing soccer and Friday Night Basketball, and just today told me he's ready for ski season. Andy and I played a fair bit of pickleball over the summer. Andy and I have also been watching through the Little House on the Prairie box set. Amazing how the shows on TV are different today than they were in the 70's.
So Dear Reader, thanks again for your continued support of my business. I'm here to help you with any of your real estate questions, so call me at 604-312-8920 if there's anything you need. Once again, our family is looking forward to a quiet Christmas time of reflection and reverence for the true Christmas story.
Have a Merry Christmas and a Happy New Year!
Steve Klassen
Personal Real Estate Corporation
RE/MAX Treeland Realty
FAMILY NEWS
SEPTEMBER 2020
Well, what just happened? One minute the kids are getting out of school, and the next minute Labour Day has passed and I'm again reflecting on a summer that was. Our summer was a bit different due to the COVID landscape, but we still managed, as a family, to make the most of it. Here are some highlights!
Osoyoos
We once again had a rotating schedule of guests crashing on the floor of our 2 bedroom suite at the Coast Hotel. Cindy and I, as well as Mireya, Nicole, Adrianna, and Nicole's friend Maclaine were the regulars. We had drop in visits from Jared, Jude and Morgan, and my nieces Alayna and Talina. Some memories included:
Morning runs with Cindy

Walks to the "Turtle Pond" with Andy

Some awesome mountain biking with Adrianna

A bike ride up to the "Lookout" with Jared

Mini golf (yes, Cindy beat me this year) and go carts at Rattlesnake Canyon

Timmies runs with Andy

Cruising one lazy afternoon with Mireya

A rare "full family" photo op with all the kids in one place at one time
Salmon Arm
Unfortunately, Sunnybrae Bible Camp was not able to run their yearly "Family Camp" this year, but undeterred, a group of us still travelled to Salmon Arm, stayed at the Comfort Inn, and made the most of the Shushwap! Some good times included:
Boating with Mr. Jones at the controls - Andy, Nicole, and Adrianna tubing

Dirt biking with Adrianna, Spencer Paquette, and other friends on the trip

Cliff jumping

Beach time

Walking at the Salmon Arm Wharf

Meals at the Hungry Panda

Ice cream at the Tappen Co-Op
Whistler
It had been a number of years since we vacationed in Whistler, but since our planned visit to the Philippines didn't pan out, we decided to return to Whistler for a 3-day mini-holiday. I love Whistler in the summer, and there's so much to see and do! Some experiences we shared included:
Trying out my new 6 bike rack from North Shore Racks

A fun family bike ride around Lost Lake

Downhill mountain biking with Jared and Adrianna

Treats at Rocky Mountain Chocolate Factory

Pool and hot tub time with Andy, Nicole, and Mireya

Patio dining in Whistler Village

Walks through the Village
So that's an update from the K-team! If you have any thoughts or funny memories, shoot me a text at 604-312-8920, email me at steve@steveklassen.com, or message me on Facebook!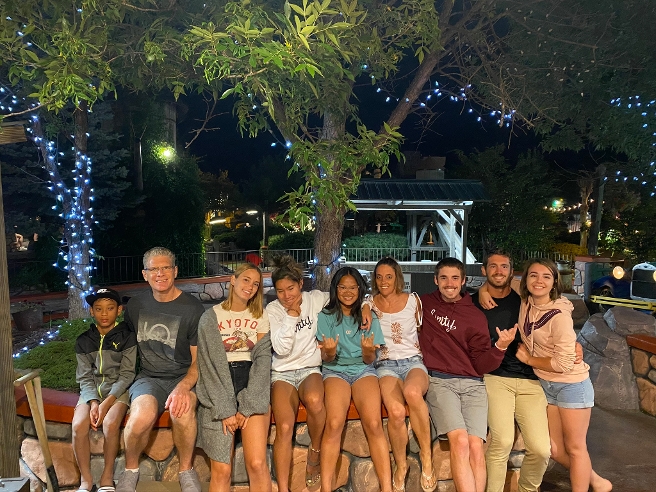 FAMILY NEWS
JUNE 2020
Much has happened with the Klassen family over the past 2 months. It's been an interesting time indeed, but don't worry, dear Reader, I will not employ the overused word "unprecedented". 😊
Old Stompin' Grounds
Mireya is always keen to get a little driving practice in, so she and I, along with Andy, decided to drive out to Tsawwassen. It was a fun outing where I showed them South Park Elementary School, where I'm pretty sure I still hold the recess ball hockey record of most goals scored using a Sherwood 5030 shaft and plastic "super blade' with a custom curve, crafted and perfected over Mom's stovetop #3 burner! I can't believe the old hockey court is still there. However, I didn't tell the kids about the fight I lost to that nasty kid Conrad back in about grade 5. More embarrassing, is that he was only in grade 4. However, in my defense I was not expecting that quick left uppercut! The kids and I the drove by my old high school, and the kids were enthralled by my tales of South Delta rugby glory and how good we were. Onwards to a few of the houses I lived in, with my favourite being 5682 Groveridge Wynd up the Tsawwassen Terrace. I spun a yarn with my kids about my friends and our dirt bike shenanigans. Can you believe we used to cut across the border into Point Roberts and ride in the old gravel pit? Once in a while the sheriff and deputy came in on their enduro bikes to chase us out. I'm pretty sure they called out after us that they'd see us next time. I then instructed Mireya to drive us down to Centennial Beach where I spent a lot of time back in the day. I showed Mireya and Andy how you could walk down the beach all the way to the border.

Andy enjoyed the tide pools, and Mireya just about got us arrested when she decided to walk a few metres past the border marker for her "Instagram Photo Op". Good thing the officer was in a good mood that day! I would have hated to ask Cindy to bail us out of jail.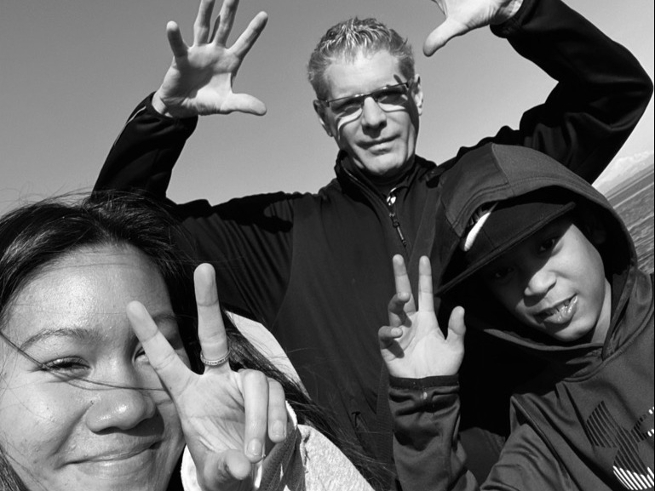 Cindy's 50th Birthday Parade
So how do you celebrate a birthday milestone during COVID-19? Well, you organize a birthday parade, of course. Since Adrianna, Mireya, and Nicole were all around anyways, I had them help organize a birthday parade for Cindy's 50th. The girls turned our front driveway into a patio lounge area, and a great number of friends and family members drove by, honked, and wished Cindy a Happy Birthday! The girls had also arranged for individually packaged cupcakes from Tracycakes in Murrayville to be handed out to each guest. Although social distancing protocols were adhered to, it was amazing to see how starved people were for social interactions. The party was lots of fun, and it was great to see everyone out!
Rippin' The Dirt Bikes
I routinely tell anyone who will listen how good of a rider I used to be. From about age 10 to 15, I put on as many dirt bike miles as anyone. And then one day, it ended. My dirt bike buddies all started getting into cars, and life moved on. What was great is that everywhere we rode, we got there ourselves, even if that meant a "little bit" of pavement riding. 😊 My Dad never had to trailer our bikes anywhere, and I did all of my own bike maintenance. But now I have kids, and the bug bit again! We have a few dirt bikes, and last weekend I took Adrianna out to Chilliwack for a "Braaap". She's become a pretty good rider, and I enjoy riding with my kids. Later today I'm going to take Jared for a rip as well. However, for me to take Adrianna and Jared out together, I need to get one more bike! So, I've told Cindy that in order for me to be a good Christian father to my children, and spend time with them, I need to get a new Husqvarna dirt bike. Good news is Cindy doesn't know a Husky dirt bike from a Husky sled dog, so she has given me what I call "soft permission" which means she hasn't said flat out "no". Perhaps she's not yet aware that the price might be a "teeny" bit more than the 2009 Yamaha WR 250 I'm going to hand down to Jared. A lot of the guys I talk to agree that by me buying a new Husky dirt bike for myself, it makes me a better father for my children. And darn it, that's what I aspire to be!
Nicole Turns 15
Where did the time go? Nicole just turned 5 and now she's 15! Nicole is a very important part of our family as none of the kids has picked up on my appreciation for good humoured sarcasm like she has. Definitely the occasional zinger! I'm amazed at how Nicole is turning into such a beautiful young lady, and know that I have to sharpen my "scowl" for when those boys start coming around. Good thing is that Andy is always up to chase people off our front porch with either a bat, golf club, or an old hockey stick! I also appreciate Nicole's willingness to help around the house. She makes awesome smoothies, and is probably the best cookie baker in the family! Unfortunately, that doesn't bode well when I'm trying to get into beach shape!
So that's an update from the K-team! If you have any thoughts or funny memories, shoot me a text at 604-312-8920, email me at steve@steveklassen.com, or message me on Facebook!
Steve Klassen
Personal Real Estate Corporation
RE/MAX Treeland Realty
FAMILY NEWS
APRIL 2020
Strange days, indeed!
The Klassen family successfully navigated through Christmas and made it through the short days of January and February. Then, our lives took a hard right turn about March 17! COVID-19 had already been in the news, but to us it seemed like something that was happening "out there". The weekend of March 15/16 I'd even hosted a very busy open house with over 20 groups of people through, and many of my real estate colleagues had similar experiences. But by the end of the next week, everything had changed. As we as a family navigate through, I took some time to look back and remember what our family has accomplished in the past few months.
Mini Hockey
When Jude, Adrianna, and Jared were young, we played a lot of mini hockey. You know, the small nets, mini sticks, and best played on your knees or while fully on the floor. Andy is now hooked on mini hockey, and it's been fun for me to continue to develop my skills. I'm pretty sure I could have gone pro if not for the knee injury I suffered. I have to say I still have a pretty good shot, and my goaltending skills are almost at a pro level, except that I get beat high glove a bit more than I like. Andy says I cheat, but I play 80's style hockey where the referees let the clutching and grabbing go a little bit.
Andy Learns to Skate
I've always prided myself as being pretty instrumental in teaching the kids to skate. However, this time I signed Andy up for some skating/hockey lessons with a technical instructor, and she had Andy skating within 10 minutes and by the end of the first session, he was shooting pucks and stickhandling! It was fun watching Andy pick it up so fast. I'm thinking Andy might try hockey this winter. Sure, at 12 years old, he's a bit of a late starter, but with my personal coaching and advice, he'll probably make the NHL by 18 or 19. And if he's really good, he might even make the league I played in, the Inter-Church Hockey League (ICHL). The older kids are tired of hearing about my team, the Culloden Knights, and how we three-peated as champions. I was a bit of a third liner goon, and when a "message" needed to be sent to the other team, I got the tap on the shoulder. I clearly remember coach telling me that the only reason I was on the third line was because we didn't have a fourth line, and that all he wanted me to do was skate up ice, skate back, hit somebody, and get off. Sure, I didn't score a lot of goals, but I drank from the cherished cup nonetheless! If you ever go to Sunset Arena in East Van, you'll see our banners!
Mireya Gets Her "N"
So Mireya now has her "N", and I've been doing a lot of driving with her. I have to admit, I made a BIG mistake. Since we didn't have an older car around anymore, I added Mireya to the insurance for my Audi SQ5. Now, I love my vehicle, and with my fussy and perfectionist tendencies, it was a recipe for disaster! Because every time Mireya drove, I was more concerned about damage to my Audi than I was in instilling confidence into my lovely daughter. I don't think kids really care how much it could cost if they curb your 21" wheel in a roundabout, or if they knock off your side mirror while learning to parallel park. And 350 horsepower might have been a bit too perky for a young driver. I finally couldn't take the stress anymore and went out and bought a used 2013 Mazda 3 hatchback. I like the car because it is mechanically solid and it has a few dings and scratches, so I don't really care if it gets a few more. Mireya loves the hatchback because apparently that's better when going to the drive-in theatre!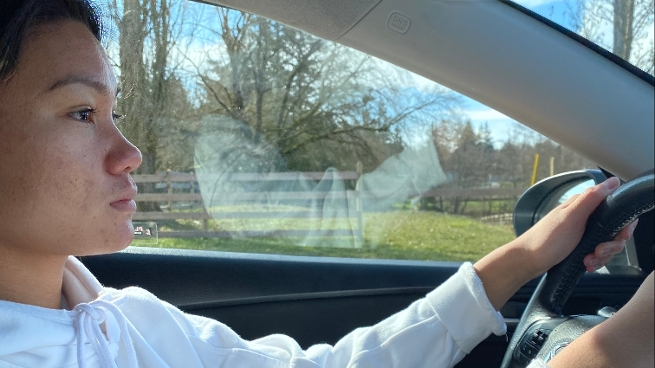 Canucks Game
Adrianna, Mireya, and Nicole bought me a pair of tickets to a Canucks game for Christmas, and since I don't get to see Adrianna much because she lives in Burnaby while attending SFU, I decided to take her. Adi and I both love going to games, and when I used to have season's tickets, we used to go to a regular season game and a playoff game every year. We both watched the Canucks lose Game 7 of the Stanley Cup Final in 2011. Adrianna was 11 years old at the time, and as gentle as she was, and still is, she was so upset after the Game 7 loss that she spit out her gum on the sidewalk and kicked the hubcap of a car on Robson Street. Incredibly, this small spark of an action caught fire as the nearby thugs and hooligans who witnessed Adrianna's rowdiness were immediately inspired to fan the flame of mischief, and an entire riot broke out! We scooted out of there real fast, and to this day Adrianna denies starting the Stanley Cup Riot, but I know better…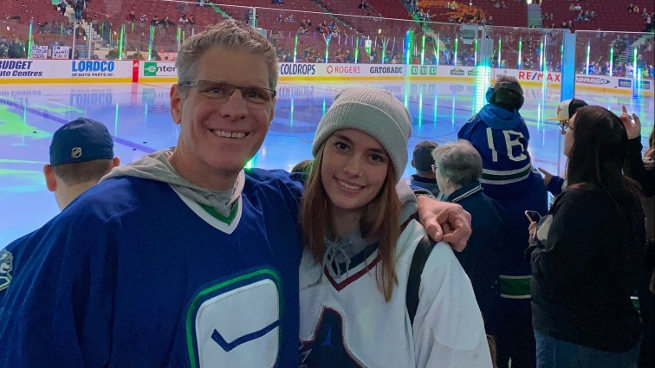 So that's an update from the K-team! If you have any thoughts or funny memories, shoot me a text at 604-312-8920, email me at steve@steveklassen.com, or message me on Facebook!
Steve Klassen
Personal Real Estate Corporation
RE/MAX Treeland Realty
FAMILY NEWS
FEBRUARY 2020
This past holiday season was wonderful. Cindy and I celebrated our 26th Anniversary on November 27th; we had a wonderful RE/MAX Christmas party; our annual RE/MAX Client Appreciation event/Tree Day went very well; we celebrated 3 kids' birthdays; Cindy and I along with Adrianna, Mireya, Nicole, and Andy went to Mexico for 9 nights; Christmas was celebrated at home with Jude and Morgan staying with us for over a week; and we even hosted a New Year's Eve party. In all of this, a few key lessons were learned and/or reinforced:
1. I Am Pretty Easy to Please (I think)
I love getting gifts, and in the past I've really lucked out on Christmas morning. But the one thing I really look forward to every year is my Terry's Chocolate Orange. Had Cindy bought me a new Apple Watch but forgot my Chocolate Orange, I'd probably be a little upset. I've received a Chocolate Orange every year for as long as I remember, and as soon as I open that little box, I rush over to our kitchen, smash that orange on the island with a loud "Ha Ya!", and then enjoy that chocolatey goodness. Some things just aren't the same if you have to buy them yourself. If I want an Apple Watch, I'll just go buy one, but the Terry's Orange can only be received by way of a gift.
2. Happiness is a Full House
Jude and Morgan came down from Salmon Arm for Christmas, and Adrianna (SFU) and Jared (TWU) came home from the dorms. So, all 6 kids were home, plus a daughter-in-law! It was great seeing the kids playing games, doing puzzles, watching movies, and just enjoying time together. Cindy and I observed that a few of the older kids, however, had to be 'retrained' in how to walk around the house quietly in the morning hours, how to quietly close a cabinet door, and how to carry a dish from the family room back to the kitchen.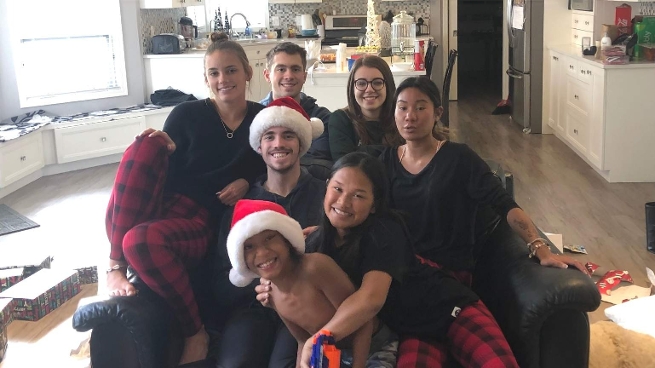 3. The Best Way to Stay in Shape is to Go to Mexico
The last 2 Decembers, we've gone to Mexico in December, and it's been the best motivation to get myself whipped into shape! I know that on the trip the cameras will be out, and stuff could accidentally end up on social media! So once I've finished eating all of the kids' Reece's Peanut Butter Cups that they received from trick-or-treating Oct. 31, I begin to set a weekly weight target. I find that realistically, with watching what I eat and exercise, I can lose 1 pound per week. So if I have a 6 week head start, I can usually shed that 'winter layer' and look 'respectable' on the beach. The day may come when the lifeguard asks me to put my shirt back on, but at least not yet!
4. The Glory Days are Over
Cindy and I are very different. Being with people all day zaps my energy, but for Cindy, it charges her! She loves to have people over and enjoy a good time of laughter, good eating, and connection. The louder, the better. For me, well, let's just say I have been known to disappear to my den to take care of some 'urgent real estate business' located on the TSN sports website. Nonetheless, Cindy made it clear we were going to host a New Year's Eve party. I voiced my opinion on that idea, and was quickly over-ruled. Friends were invited, treats and fancy punches were prepared, and I helped clean the house — every nook and cranny. I sometimes get confused and clean a cranny when I should have been cleaning a nook! Cindy got me straightened out on that one, though. Eventually New Year's Eve came and the guests arrived. We were all having a grand time when I noticed the 'trickle'. You know, when your guests start to 'trickle' out of your party to go home? And by 11 pm on New Year's Eve, the house was getting pretty empty. I asked Cindy, "Are we throwing a lame party or are our friends getting too old and can no longer stay up until midnight?" Cindy argued the latter, but I argued the former. Blessing in disguise is that I got to bed at a decent time and enjoyed a full New Year's Day!
Steve Klassen
Personal Real Estate Corporation
RE/MAX Treeland Realty